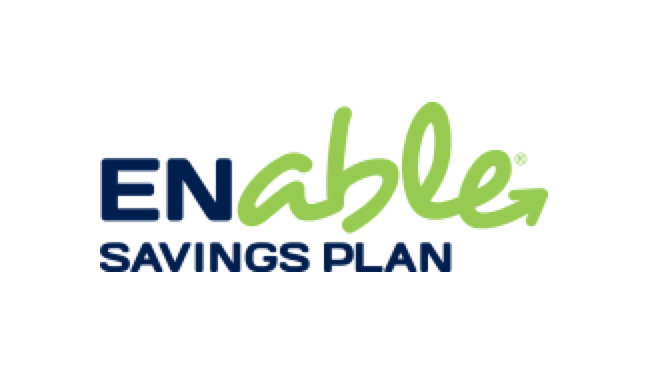 Enable Savings Plan
The Enable Savings Plan is issued by The Nebraska Achieving a Better Life Experience Program Trust and administered by the Nebraska State Treasurer, who serves as trustee to the Plan. The Plan offers a series of investment options within the Nebraska Achieving a Better Life Experience Program Trust. The Plan is intended to operate as a qualified ABLE program, pursuant to Internal Revenue Code Section529A.
Program type

ABLE Savings plan

Investment Manager

Nebraska Investment Council

Inception

2017
Program Manager

First National Bank of Omaha

Program distributor

First National Capital Markets
Eligibility
State residency requirements:
Who can be a participant/owner in the program?
Program restrictions:
Did you know?
NE residents can claim a tax deduction for contributions to a NE 529 plan.

Contributions are deductible in computing state taxable income

529 plan contributions grow tax-free.

Withdrawals are tax-free when used to pay for qualified higher education expenses.

You can contribute as much as you want, as often as you want.

The key is to get started. Enroll today by completing a quick form online.
Contributions
Maximum contributions:
Minimum contributions:
Investment Options
Target-Risk Options:
Bank Money Market Investment / Checking Option:
Fees & Expenses
Enrollment or application fee:
Account maintenance fee:
Expenses of the underlying investments:
Total asset-based expense ratio:
Fees or restrictions on the number of disbursements
Taxes and other Benefits
Program match on contributions:
State tax deduction or credit for contributions:
State tax recapture provisions:
State tax treatment of qualified distributions:
State tax treatment of rollovers:
Medicaid eligibility
Medicaid recapture provisions
Is there a debit card/ purchasing card available, and if so, at what cost?
Statutory protection of an account from creditors:
Did you know?
Residents are not limited to investing in their own state's 529 plan.

Another state may offer a plan that performs better and has lower fees.

The 529 plan chosen does not affect which state the student enrolls in.

You can live in New York, open a plan from Nevada and send a student to college in Florida.

The best way to maximize your college savings?

Start early and save often. You can get started today with easy online enrollment.
Distributions & Terminations
To whom are distributions made payable:
Account Changes
Policy regarding participant/owner changes:
Documents, Access & Reporting
Does participant have online password-protected access to account?
Can the complete enrollment process including funding be done online?
Documents and other services accessible or downloadable on the program's public Web site:
Contact
Website:
Telephone:
Email:
Facebook
Start saving for your child's future today
Step 1
Click the blue Enroll Now button to the right
Step 2
Complete the online application and make your first deposit