Despite the name, most families will pay more than the expected family contribution (EFC). The actual family contribution is greater because of unmet need and the inclusion of student loans in the financial aid package.
Most colleges do not meet full demonstrated financial need, leaving the student with a gap of unmet need. Unmet need is the difference between financial need and financial aid.
Unmet need is defined by the formula:
Unmet Need = Financial Need – Financial Aid = Cost of Attendance – EFC – Financial Aid
Nearly three quarters (73%) of students in Bachelor's degree programs and 89% of those with financial need have unmet need, according to data from the 2015-2016 National Postsecondary Student Aid Study (NPSAS:16). The average unmet need has doubled from $5,628 in 1999-2000 to $12,880 in 2015-2016.
Since some students borrow to cover the unmet need, this means that unmet need is contributing to the growth of student loan debt.
Even if a college claims to meet full demonstrated financial need, most colleges use student loans as part of the financial aid package. Student loans must be repaid, usually with interest.
If student loans are not counted as meeting need, 77% of students in Bachelor's degree programs and 94% of those with financial need have unmet need. The average unmet need not counting student loans has increased from $7,057 in 1999-2000 to $14,831 in 2015-2016.
Colleges are using about $2,000 in need-based student loans, on average, to cover unmet need, which still leaves a big gap.
Only about six dozen colleges have no-loans financial aid policies that meet full need with grants, not loans.
Even if a college is one of the "no loans" colleges, most of these colleges redefine financial need by using their own EFC formula, such as the CSS Profile, for awarding their own financial aid funds. These institutional financial aid formulas cause a gap of thousands of dollars as compared with the federal definition of financial need.
Some of the most significant differences between the institutional financial aid formulas and the federal EFC include:
The colleges use a minimum student contribution or summer work expectation, which increases the EFC and reduces financial need by $3,000 to $6,000
The colleges count the finances of the non-custodial parent when the parents are divorced or separated.
The colleges count net home equity, while the federal formula does not.
The colleges disregard capital losses and business/farm losses.
The colleges reduce the impact of the number of children in college on the EFC.
The colleges do not have a small business exclusion, simplified needs test or auto zero EFC like the Free Application for Federal Student Aid (FAFSA).
Last dollar financial aid programs, such as many free tuition programs and other state aid programs, contribute to increases in unmet need since they prevent federal, state and private grants from being used to cover other college costs beyond tuition and fees.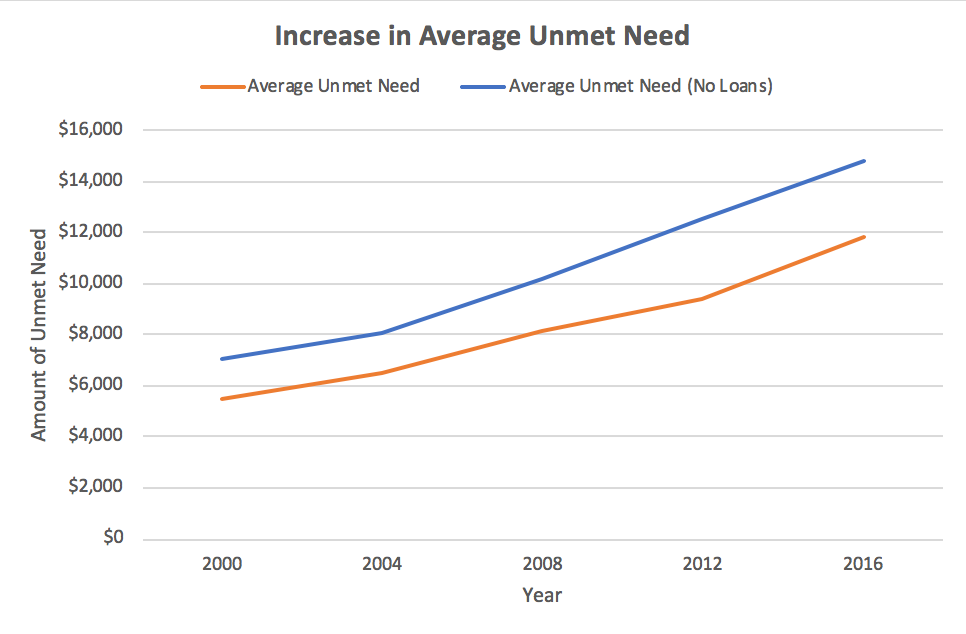 If you have unmet need and need to borrow student loans, choose federal loans first. These loans come with certain perks, such as eligibility for student loan forgiveness and income-driven repayment plans. If you're borrowing private student loans, compare lenders for the lowest interest rate. 
Sign up for our free student loan newsletter for more expert advice on student loans.