College is a major expense for most families. 529 plans are designed to help save for college, but many parents are confused about how they work. Fortunately, there are several tools available that help with selecting and opening a 529 plan, scheduling contributions and inviting friends and family to contribute.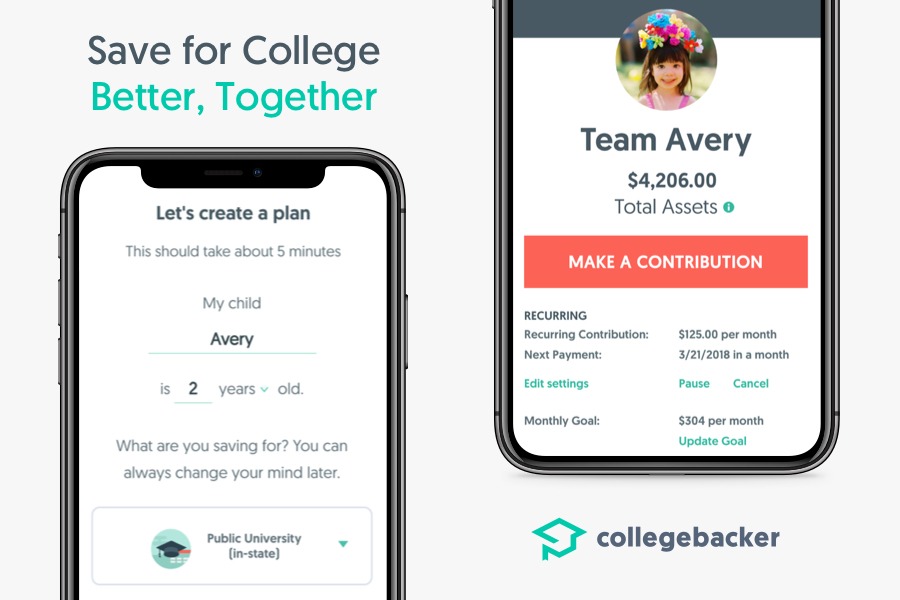 What it is 
CollegeBacker is a website that helps families find and enroll in a 529 plan and invite others to make contributions.
How it works
Anyone who is eligible to enroll in a 529 plan can set up a CollegeBacker account. CollegeBacker will help you find a best-in-class 529 plan with a low-cost investment portfolio that automatically becomes more conservative as the beneficiary gets closer to college age.
Parents can invite grandparents and other relatives to join their CollegeBacker community, where they can contribute to the 529 plan and track the child's college savings progress.
Parents can even use a CollegeBacker account to set up a 529 plan before a child is born.
CollegeBacker accepts both one-time and recurring 529 plan contributions.
Cost
CollegeBacker uses a voluntary fee structure. They ask families to pay between $0-$10 per month to support their business and product. 10% of the payment is used to support school partnerships that equip low-income families with college savings and financial education. They offer "the same service for everyone, regardless of fees," says Abby Chao, Co-Founder and COO.
There is no charge for 529 plan contributions from a bank account. 529 plan contributions made using a credit card or debit card will be charged a processing fee of 2.9% + $0.30.
What makes CollegeBacker unique
CollegeBacker's biggest differentiator is their social component. Each CollegeBacker account has a personal link that can be shared with friends and family. Parents can send occasional notes to the community, and CollegeBacker reminds them of events like birthdays and graduations. Gift givers can contribute using a credit card, debit card or bank account.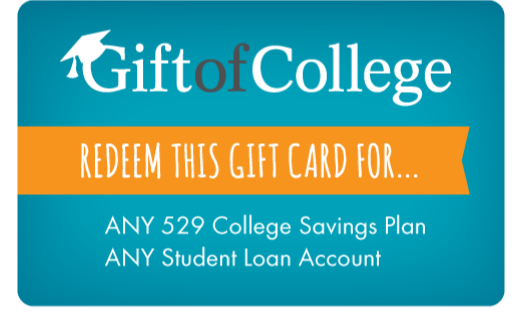 What it is
Gift of College is a college savings gift registry that allows friends and family or employers to contribute to a beneficiary's 529 plan, ABLE account or student loan account.
"Gift of College gift cards can be used in countless ways for celebrations of all types and in the workplace. Employers are beginning to use gift cards for rewards and recognition, to acknowledge the birth of an employee's child and to attract and retain employees," says Wayne Weber, CEO.
How it works
There are three ways to contribute with Gift of College:
Use a link provided by the gift recipient or by searching the giftofcollege.com registry
Purchase an electronic or physical gift card at giftofcollege.com or at Savingforcollege.com
Buy a Gift of College gift card at select retailers nationwide, including Target, Barnes & Noble, Save Mart and Lucky Supermarkets.
Cost
It's free to set up a Gift of College account and free to link a 529 plan. However, the gift giver is charged a 5% processing/servicing fee (capped at $15) per transaction.
What makes Gift of College unique
Gift of College provides an easy way for friends and family to help a loved one save for college or pay down student loans. Gift cards can be redeemed on the giftofcollege.com website into ANY existing 529 plan or student loan account, or they can be used to establish a brand-new account if the recipient doesn't have one.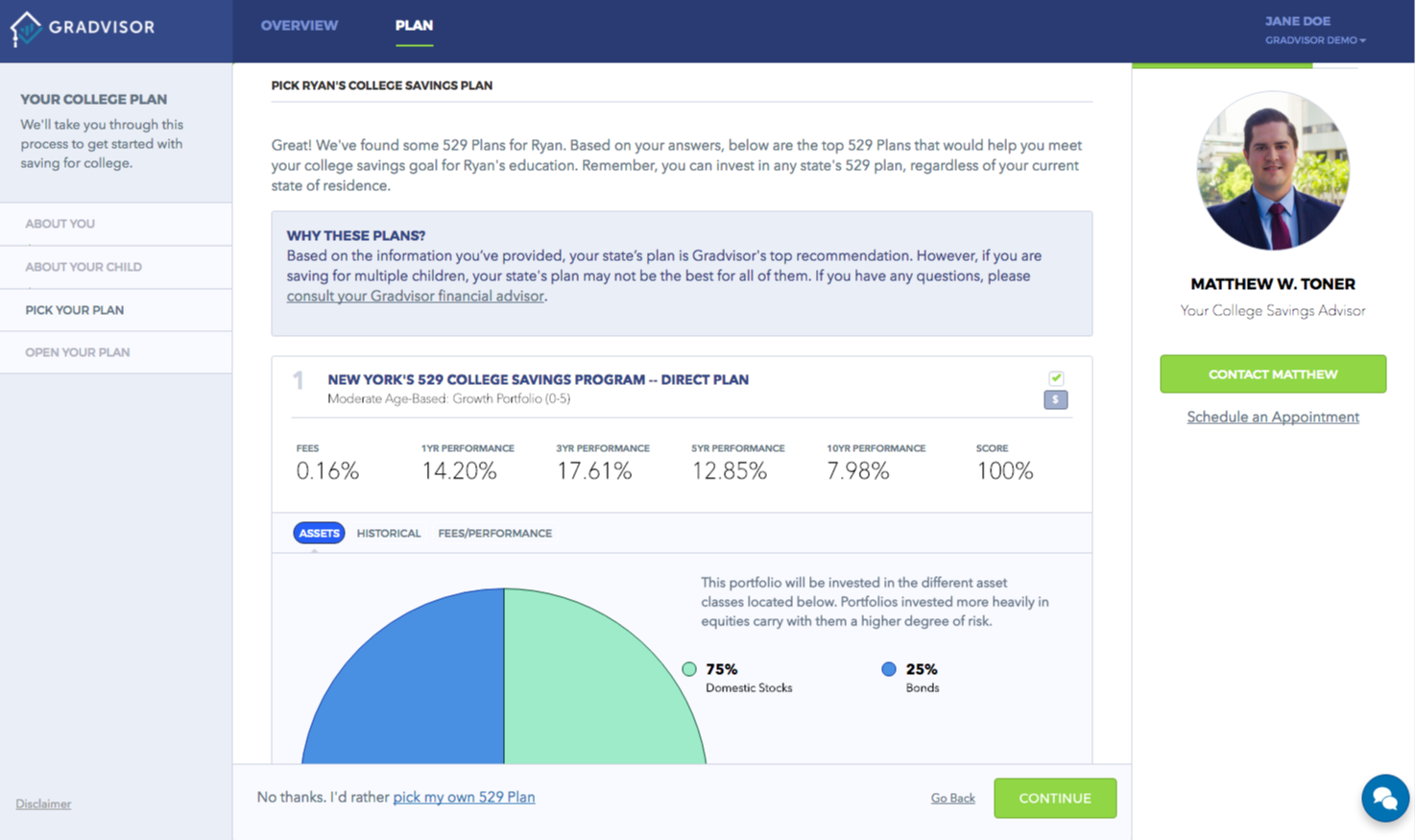 What it is
Gradvisor is a digital platform that helps companies offer 529 plans as an employee benefit.
How it works
Employees who have access to Gradvisor can access the platform to select and open a recommended direct-sold 529 plan to suit their family's individual needs.
Families can track their goals and progress using the dashboard, and they also have access to a financial advisor who specializes in college savings.
Employee 529 plan contributions are automatically synched with payroll, and employers can match employee 529 plan contributions.
Cost
The cost to set up Gradvisor is based on employer size. Employers can request a demo to learn more and discuss pricing, says Matthew Toner, Director of Strategy and Business Development. There is no cost for employees to participate when Gradvisor is offered through their employer. 
What makes Gradvisor unique
Gradvisor's turnkey integration allows for a seamless rollout for employers. Employers will have access to their own dashboard, which provides data on employee engagement and how they are responding to the Gradvisor platform. Gradvisor's team also handles customer service and marketing. Gradvisor's Ultimate Guide to Employer-Sponsored 529 plans provides more information for employers considering using the service. 
After employees enroll in their recommended 529 plan and investment portfolio, they have access to helpful tools such as financial modeling that shows how their 529 plan is expected to perform in various market conditions and how likely they are to reach their college savings goal.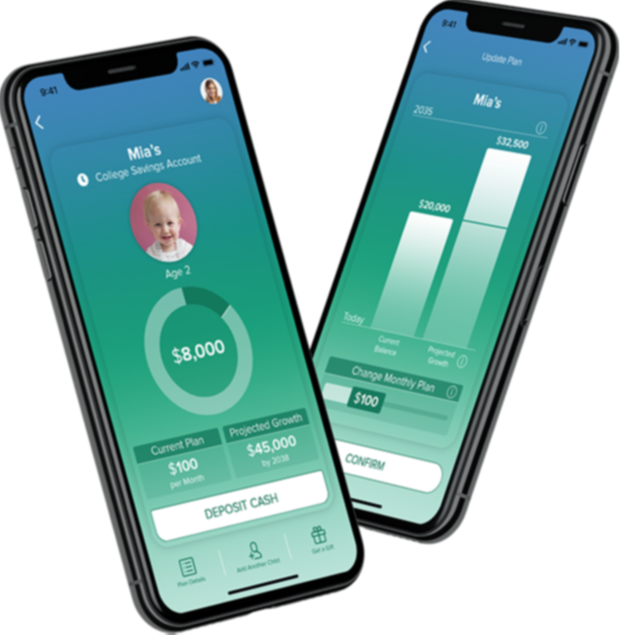 What it is
U-Nest is an app that allows parents to set up a UTMA custodial account. 
How it works
Anyone can open a U-Nest account on behalf of a designated beneficiary. It only takes about five minutes to download the mobile app and set up an account.
The U-Nest app allows parents to set up monthly automatic contributions and track their savings goals and progress.
At Savingforcollege.com, our goal is to help you make smart decisions about saving and paying for education. Some of the products featured in this article are from our partners, but this doesn't influence our evaluations. Our opinions are our own.