For many college students, textbooks are a big part of out-of-pocket costs. According to a recent Cengage survey, buying textbooks and course materials are a top source of financial stress for students, second only to tuition expenses. Before heading to the campus bookstore, students should consider other ways to access textbooks, such as renting, borrowing or buying used editions.
Rising costs of textbooks
Over the past decade, the average cost of college textbooks has risen four times faster than the rate of inflation. According to the College Board, institutional budgets for college students included around $1,240 to $1,460 for books and supplies during the 2020-21 academic year. Many students make sacrifices such as taking fewer classes or skipping meals to afford textbooks, and 72% of students reported using financial aid or scholarship money to pay for textbooks.
The costs of textbooks may have an even bigger effect on community college students. According to a report by U.S. PIRG, 50% of community college students use financial aid to pay for college textbooks, compared with 28% at public 4-year colleges and 22% at private 4-year colleges.
The chart below illustrates college textbook inflation based on the college textbook component of the Consumer Price Index for all Urban Consumers (CPI-U). The data shows a generally downward trend, but also that college textbook inflation is still elevated.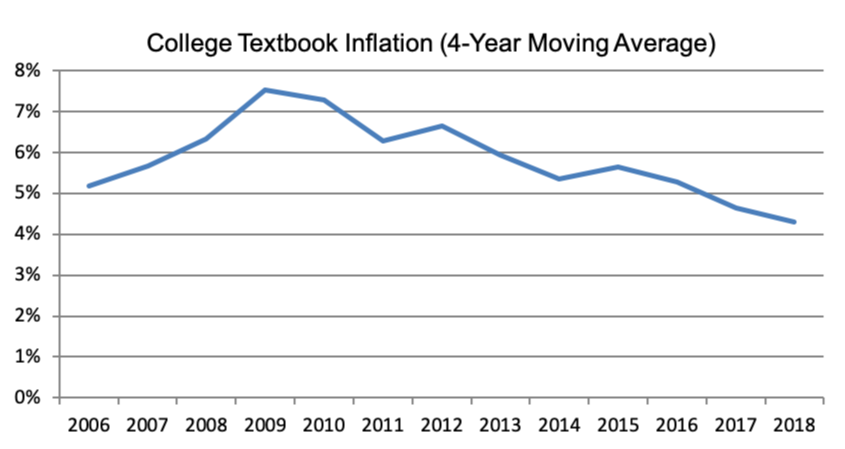 Source: Bureau of Labor Statistics
How to save for college textbooks
The best way for families to avoid the sticker shock from college textbooks and required course materials is to plan ahead. A student's college savings goal should, at minimum, include costs of textbooks and supplies in addition to tuition, fees, room and board, and transportation.
All of these costs, except for transportation, can be paid for with 529 plan-savings. A 529 plan is an investment account that offers tax-deferred growth and tax-free distributions when the money is used to pay for qualified education expenses.
Data from the Bureau of Labor Statistics shows textbook inflation has been about 5.3% per year over the last 10 years. Using the $1,300 figure from the College Board, parents with a newborn can expect to pay around $3,100 per year for college textbooks when their child is 18. Parents of high school seniors will pay close to $1,600.
Using financial aid to pay for textbooks
The $1,300 figure from the College Board is an average based on what colleges reported as their cost of attendance budget for books and supplies. Eligibility for need-based financial aid is capped at the cost of attendance, so it's important for students to save their receipts. If the actual cost of textbooks and supplies exceeds the allowance in the college's cost of attendance, the student can appeal for an increase in the cost of attendance, which will increase financial aid.
Ways to save money on textbooks
The best way to save money on textbooks and course materials is to find them at lower prices. Here are some smart alternatives to shopping at the college's bookstore:
Buy and sell used textbooks. Purchase used copies of textbooks and sell them back to the bookstore at the end of the semester.
Rent textbooks. It will likely cost less to rent a textbook than to buy it, but you will not be able to sell it back at the end of the semester.
Use the ISBN to find lower prices. College syllabi are required to list the ISBN for all textbooks listed in the syllabus. An online search tool can help you find the lowest price available online for a particular textbook.
Check the library. The college library may have a copy of the textbook on reserve.
Look for an electronic version of the book. If a class requires a new book, the electronic version may be substantially cheaper than the print edition.
Ask the professor for an evaluation copy. Professors are eligible for complimentary evaluation copies of some textbooks and may be able to lend you one from a prior semester.
Share textbooks with a roommate. Sharing course materials may be inconvenient at times, but it can cut textbook costs in half.
Only buy required textbooks. A professor may only be using one chapter from a textbook, so you might not need to buy that textbook.
Where to find low-cost or rentable college textbooks
Students can search for their required textbooks on the following websites to find the most cost-effective options:
[Editor's note: Publisher on February 28, 2019. Updated on October 26, 2020.]