The ChangEd app helps student loan borrowers pay down their debt faster.
The app links to your student loans – both federal and private – and puts extra money towards your student loan balance.
Users can save in interest costs and reduce the time they are paying on their loan. Co-Founder Dan Stelmach gives an example of an average student loan borrower with a $30,000 loan balance at a 5.9% interest rate on a 15-year term. Since the average ChangEd member saves roughly $50 a month, the estimated savings would be nearly $4,000 in potential interest costs and shave approximately 3.5 years off the loan.
Where does this extra money come from to pay off your loans?
There are three ways the app makes deposits towards your student loans. This includes:
Rounding up your purchases and putting the change towards your balance
Sending a one-time extra payment whenever you'd like
Allowing family and friends to link their accounts to round up purchases to put towards your debt
ChangEd has a rating of 4.7/5 on the App Store.
Round Up Purchases
The app rounds up all of your purchases to the nearest dollar and applies the change to your student loan balance. For example, if you spend $5.65 on a sandwich, your purchase is $6.00, and the $0.35 goes to your student loans.
You can link a checking account as well as a credit card to round up purchases. The round up is transferred from your checking account, not your credit card. So, if you use your credit card to fill up your gas tank for $35.50, $0.50 will be deducted from your checking account. This helps you avoid increasing your credit card balance.
Your savings are transferred ($5 minimum) to a personal FDIC-insured ChangEd account. When your balance reaches $100, the money is automatically sent to your student loans.
Track your progress by seeing when payments are made, how much you're saving in interest, and how much sooner your student loan debt will be eliminated.
You can pause the round up at any time.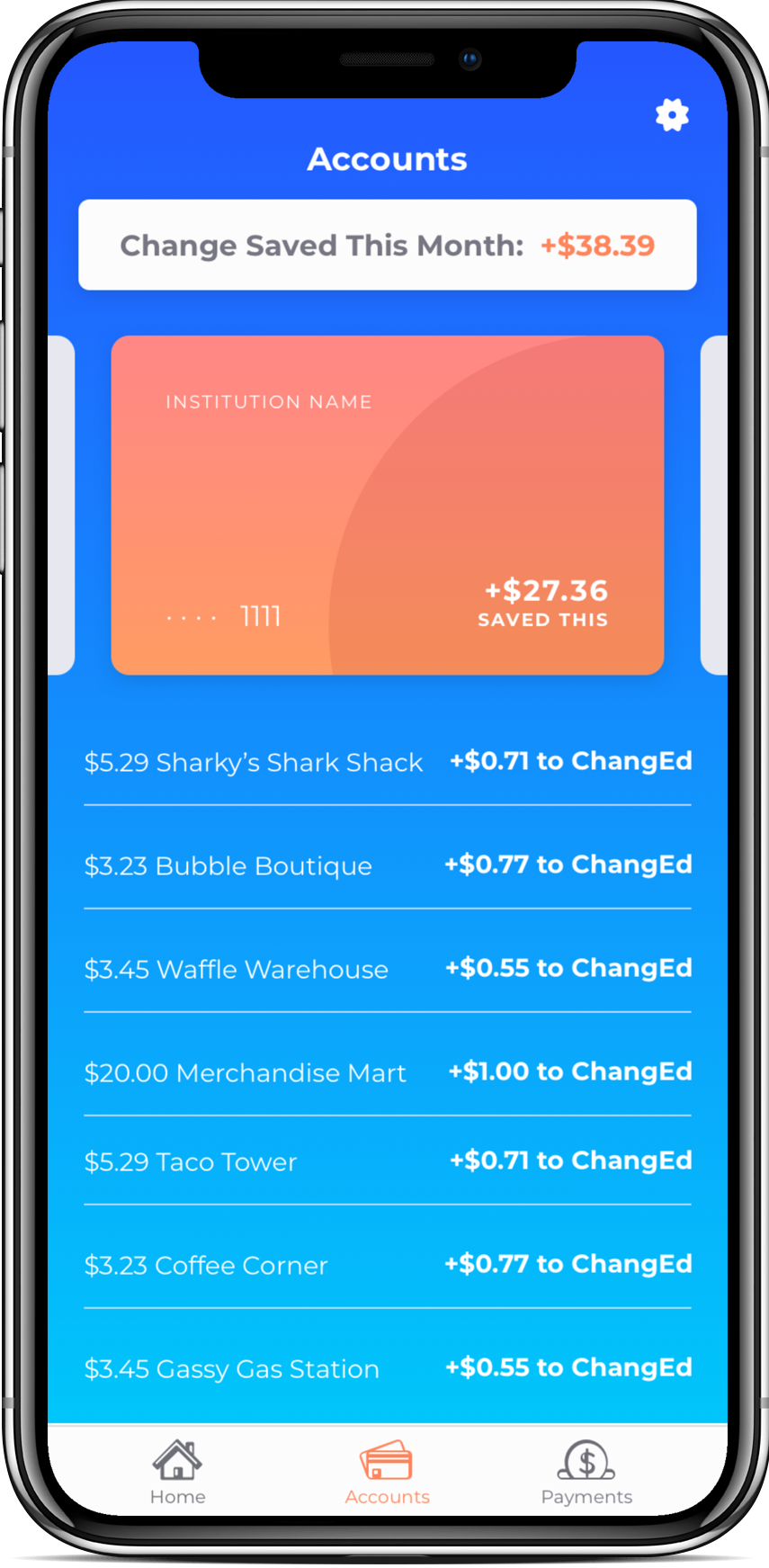 Send One Time Transfers
You can send extra payments anytime you'd like. Send a one-time transfer of $5, $10, $20 or any amount you want whenever you want.
If you were anticipating paying for lunch, but your boss pays for the office, you might consider sending a $5 one-time transfer to your loan.
Earn Points for Potential Free Payments
You can earn points for free payments to your student loan debt by referring friends and reaching milestones. Those points are then entered into a weekly raffle for a chance to win a student loan payment.
Ask Family and Friends
Many times, parents or grandparents want to help their kids pay down their student loan debt. If you're lucky enough to have someone in your life who wants to chip in, they could register, too.
How to Get Started
The app costs $1 per month to use and is free to download.
To set up your personal FDIC-insured account, you'll need to enter your legal name, date of birth, phone number and address. Next, you'll need to link your student loans using your loan servicer login credentials. Finally, add accounts you want to use to trigger roundups, such as credit cards and debit accounts.
Download the app to get started.
Things to Keep in Mind About ChangEd
Don't rely solely on the ChangEd app for paying your student loan debt. You should still plan on making at least your minimum required payment (ideally on automatic payments so you don't forget and get a small discount). Think of ChangEd as part of the snowflake method for debt repayment.
Since there are times when it may not make sense to pay extra towards your student loans, the ChangEd app may not be for you. This includes if you are working towards Public Service Loan Forgiveness or if you don't have any money yet set aside for an emergency. If you have other debt that has a higher interest, such as a credit card, consider putting any extra money towards that first.
At Savingforcollege.com, our goal is to help you make smart decisions about saving and paying for education. Some of the products featured in this article are from our partners, but this doesn't influence our evaluations. Our opinions are our own.