Rising college costs and nearly stagnant wage growth have made it impossible for today's students to work their way through college.  Earnings from part-time jobs during the academic year and full-time employment during the summer are insufficient to cover the cost of a 4-year college education.  Without college savings, students may have to look for other ways to reduce costs or choose a less expensive college.
Rising college costs have outpaced the minimum wage
The idea of working your way through college was once a reality for many Baby Boomers. During the sixties and seventies, students could earn enough from a minimum-wage summer job to graduate from college debt-free. Over the past 30 years, however, college costs have risen sharply.
According to the College Board, the cost to attend one year of a 4-year public college and one year of a 4-year private college increased roughly 145% and 167% from 1972-2018, respectively.
However, when adjusted for inflation, the federal minimum wage was higher in 1972 than it is in 2018 ($9.60 per hour versus $7.25 per hour). Students who worked part-time in 1972 could potentially earn more from a part-time job than a student today, and pay less for a college degree. A student today would have to work 48 hours per week at a minimum-wage job to pay for college, reports the Atlantic.
College Tuition, Fees, Room and Board and Minimum Wage 1971-72 vs. 2018-19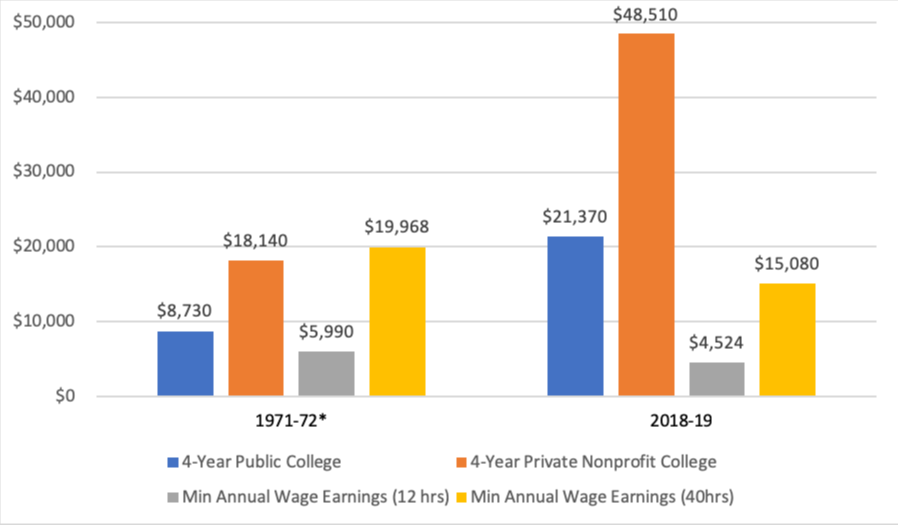 Source: The College Board, U.S. Department of Labor
Find a balance
Not only is working a 48-hour week while attending college unrealistic, it's also not necessary. A general rule of thumb is for families to pay for college using the 1/3 Rule. One-third of college costs are covered by savings, one-third are covered by current income and the remaining one-third is paid for with student loans. A college savings calculator can help you determine future projected college costs, and how much you need to contribute to a 529 plan in order to meet your goals.
When college savings come up short, the student may have to work more and/or borrow more to make up the difference. However, both working more and borrowing more can have negative consequences for students:
Students who work full-time while attending college are half as likely to graduate within six years as compared with students who works 12 hours or less per week.
If a student's total student loan debt is more than what they expect to earn during their first year after college, they may not be able to repay their loans in full within 10 years.
More than 70% of college students graduate with student loan debt, with an average balance of around $30,000. If a student will have to borrow more than their expected starting salary to attend a certain college, they may wish to consider a less expensive school that offers the same degree program.
Avoid the community college trap
Some students start out at a local community college with plans to eventually transfer and graduate from a 4-year school. This allows them to save money by living at home and work while obtaining college credit. Yet starting out at a community college could put your future degree plans at risk. Studies show that students who start out at a 2-year college are much less likely to graduate within six years as compared with students who start out at a 4-year college.
Students may also have trouble transferring credits from the community college to the 4-year college. Having to take more classes, or retake classes can be costly and will delay graduation.
Alternatives to a part-time job
Working too much during college may do more harm than good, but there are other effective ways a student can find money for college. Every student should apply for financial aid by completing the Free Application for Federal Student Aid (FAFSA), regardless of their household income. Even if you don't qualify for need-based grants, you may be eligible for federal student loans, which typically offer lower interest rates and better repayment options than private student loans.
Scholarships are another way to fill a college savings gap. Unlike grants, which are awarded based on financial need, scholarships are awarded based on merit. The best way to apply for multiple scholarships is to use a free scholarship search tool such as Fastweb.com or the College Board's Big Future.
It's never too late to start saving for college with a 529 plan, even if the student is in high school. You can continue to make contributions to a 529 plan and take advantage of tax-deferred growth up until the last tuition bill is paid, and qualified distributions will be tax-free.  Some states provide a state income-tax deduction on contributions to the state's 529 plan without a waiting period, effectively providing a discount on tuition.
To boost 529 plan savings in the short term, ask friends and family to make gift contributions to help students save for college, and sign up for Upromise to earn cash back rewards on purchases and dining out.
At Savingforcollege.com, our goal is to help you make smart decisions about saving and paying for education. Some of the products featured in this article are from our partners, but this doesn't influence our evaluations. Our opinions are our own.