Financial aid for college is complicated, but there are only a few things you need to do to get money to help pay for a college education.
Financial Aid Is Really Complicated
This diagram, affectionally known as The Hairball, illustrates a simplified view of the student aid delivery system in 1999. Since then, financial aid has become even more complicated.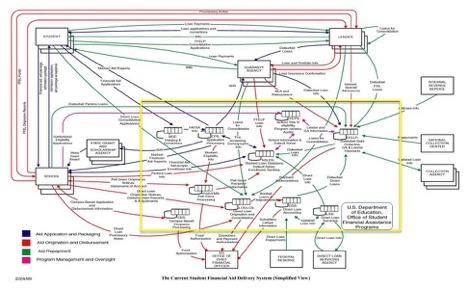 Financial aid involves an alphabet soup of acronyms and cryptic terminology. The language of financial aid has also evolved over time. Instead of the FAF, PCS and SFS, today we talk about the FAFSA, SAR and CSS Profile.
Contrary to what you may have heard, the FAFSA is not an acronym for the Frozen at Sea Fillets Association. EFC is not a form of eco-friendly cleaning or electronic funds transfer. The SAR is not an infectious disease spread by birds.
Five Steps to Apply for Financial Aid
The complexity of financial aid has parents worried about missing something important. You worry more about what you don't know than what you do know. There are too many details. One almost needs to have an advance degree in finance to understand how financial aid formulas work.
Despite the complexity, there are only a handful of steps you need to take to apply for financial aid.
File the FAFSA. The FAFSA is the Free Application for Federal Student Aid. This application is not only used to apply for federal aid, but also for state grants and for financial aid from most colleges and universities. You may also need to file the CSS Profile form, if your college is one of the few that require it. File the FAFSA as soon as possible after October 1, since some financial aid is awarded on a first come, first served basis. File the FAFSA every year, even if you did not get any grants last year. Subtle changes can have a big impact on aid eligibility, such as changes in the number of children enrolled in college. There are simple strategies for increasing eligibility for financial aid. If your income has changed recently or your ability to pay is affected by special circumstances, consider appealing for more financial aid.
Search for scholarships. Search for scholarships on free scholarship matching web sites. Start searching immediately, to avoid missing deadlines. Answer the optional questions in the scholarship search profile, not just the required questions, to increase the number of scholarship matches. It only takes about half an hour. Also search for scholarships using scholarship listing books at your local library or bookstore. Apply to every scholarship for which you are eligible, not just the most generous scholarships. Proofread your scholarship applications for correct spelling and grammar and clean up your online social media presence. Beware of scholarship scams. If you have to pay money to get money, it's probably a scam.
Work a part-time job in college. Working a part-time job can help you pay for college or give you walking around money. You can earn more than $6,000 a year in college without affecting your eligibility for need-based financial aid. Work part-time during the academic year and full-time during the summer. Limit your job to no more than 12 hours a week during the school year. Every additional hour will take too much time away from academics. Students who work a full-time job during the academic term are half as likely to graduate as compared to students who work 12 hours or less a week.
Borrow student loans. Unfortunately, college means debt. But, you can borrow smart. Borrow as little as you need, not as much as you can. Every dollar you borrow will cost you about two dollars by the time you repay the debt. Borrow no more for your entire education than your annual starting salary. If total debt is less than annual income, you should be able to repay your student loans in ten years or less. Borrow federal first, because federal student loans are cheaper and have better repayment terms than private student loans.
Remember, the only way to get financial aid is to apply.
Use our Financial Aid Calculator to estimate your expected family contribution (EFC) and financial need based on student and parent income and assets, family size, number of children in college, age of the older parent and the student's dependency status.
Next Steps: Check out our Complete Guide to Financial Aid and the FAFSA