A bipartisan group of Senators and Representatives are introducing legislation to allow 2020 college graduates to defer their student loans for three years.
The legislation will be introduced in the U.S. House by Representatives Josh Harder (D-CA) and Brian Fitzpatrick (R-PA) with six other cosponsors. Senator Mitt Romney has introduced similar legislation in the U.S. Senate.
"I graduated in the middle of the Great Recession, and I saw tons of my friends struggle to find a job – college grads this year are stepping into the same climate and they need a hand," said Rep. Harder. 
Nearly 17 million Americans have filed for unemployment benefits during the three-week period ending on April 4, 2020, according to the U.S. Department of Labor. This year's college graduates will graduate into a very difficult job market.
This chart shows that initial unemployment benefit claims have spiked in the three weeks ending on April 4, 2020, as much as 30 times normal.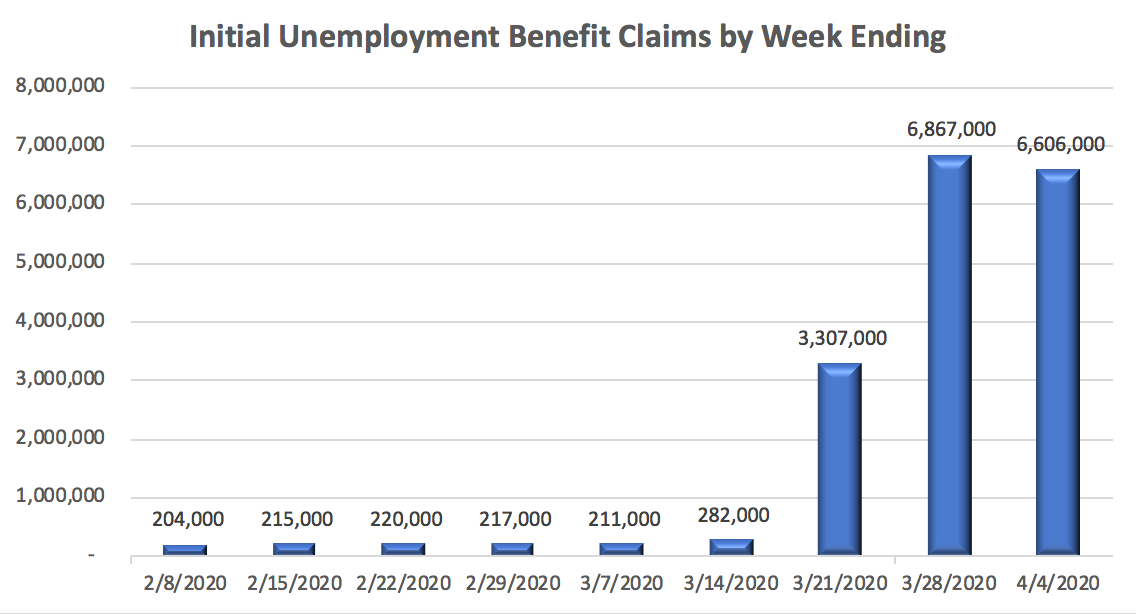 The COVID-19 Graduate Relief Act will allow any college student who graduates in 2020 to defer their federal student loans for up to three years. The legislation also provides the U.S. Department of Education with the authority to provide a similar deferment to 2021 and 2022 college graduates, if needed.
How to Manage Student Loan Debt during Coronavirus
If you are struggling to make student loan payments, there are options. Most federal student loans are eligible for a temporarily payment through September 30, 2020.
If you don't qualify for a payment pause, call your lender and see what options are available.
If you have high-interest private student loans and you are still able to make payments, you might want to consider refinancing student loans. Refinancing can mean a lower interest rate, which could save you money on your loan. Some lenders, such as Earnest, allow you to customize your payment to work with your budget. Going on a longer payment term may mean lower monthly payments, but you'll pay more in the long-run. Consider the pros and cons of refinancing and if it's right for you.
Keep in mind that refinancing federal student loans means a loss in federal benefits, including the temporary interest-free payment pause from coronavirus. You'll also lose the ability to enroll in a payment plan based on your income, any potential federal forgiveness opportunities, and generous options to pause payments during times of unemployment or economic hardship.
If you decide that student loan refinancing is a good option for you and your loans, Credible is a great tool for comparing multiple lenders at once.
If your income hasn't, and likely won't, be impacted by COVID-19, you could consider still making payments towards your federal student loans. If you have a solid emergency fund and no other high-interest debt, your payment will be going completely towards the principal balance, making more of an impact.